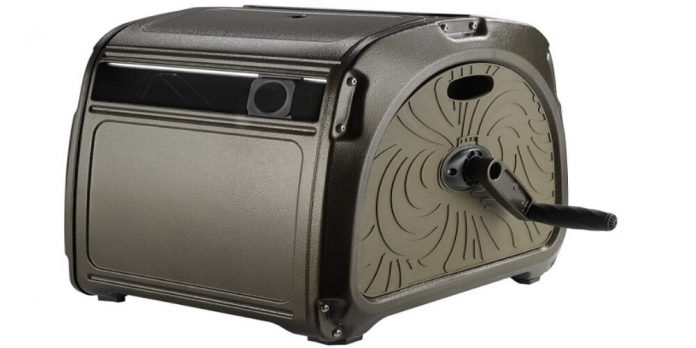 There are different models of garden hose reel available on the market. When shopping for one, you need to consider several factors and read reviews to choose the best one. These are some of the important factors you should take into account.
Type of Garden Hose Reel
The common types of hose reels are wall-mounted, retractable, wall-mounted, and cart. It is important to know where you can place these reels, how they are used, their durability, and space availability. That is because all these factors help you make the best decision that suits your needs.
Wall-Mounted
The wall-mounted garden hose reel is designed to be attached to the house. Also, it varies on how it attaches to the house. You should consider mounting it perpendicular and parallel. The parallel one pulls your garden hose along the wall side, whereas the perpendicular one pulls the garden hose straight from the wall. If you do not want to take the hose to various parts of the garden, then the perpendicular mount is the best.
You can also find some wall-mounted models with 180 degrees pivot brackets. This type of hose reel allows you to water your yard conveniently. There are also models that have handles that allow for the easy winding up of your garden hose. Make sure you mount the garden hose reel securely to the wall. If you cannot install it securely, you should try another option.
Stand-Alone Reel
If you reside in an area with extreme summer or winter, then you should get a stand-alone reel. This is because you can hide your hose away from freezing conditions or direct sunlight. In this way, you can extend the lifespan of the hose. This reel is designed to enclose your garden hose without the need to attach it to the external wall. Also, it blends into your ideal landscaping as you keep the box out of sight. The fact that it comes with large handles means you can easily move the hose from one place to another.
Cart
It is a convenient and perfect option for people looking for a quick and easy way of moving the garden hose reel around the yard. Since it has a wheeled holder and large storage capacity, you will find it perfect for a larger garden. Moreover, you can easily roll it to the garage or shed after use. If you are a professional landscaper or working in a commercial garden, this is the ideal garden hose reel to purchase.
Storage Pots
This type of garden hose reel is quite popular. Ideally, it is a pot where you can store a garden hose. It is available in decorative and different options.
Retractable
If you have a large garden, then you need to save your effort and time when watering. It is advisable to get a hose reel with a retractable feature. The manual hose or non-retractable reels are ideal for medium-sized gardens. However, you need to wind up the hose manually. This makes it a tedious task for many gardeners and landscapers.