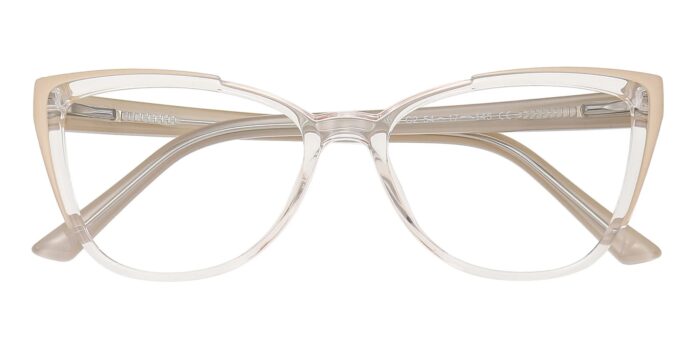 What do you think are the best women's cat eye glasses frames? What makes an eyeglass really good? What should you look for while buying some new eyeglasses? What is the most important thing to consider while buying prescribed spectacles? If you are not prescribed by your eye doctor then should you go for eyewear just for style? Or if you are prescribed then from where you should buy your eyeglasses? If not then what kind of eyeglasses should you buy? And if you buy eyeglasses no matter if it's prescribed or just for style, then what is the best one that matches all your requirements? Too many questions that are Confusing right? Don't worry just search GlassesShop on your browser you will see for yourself you do not need anybody else's advice. But before that, guide yourself with this article.
Fabulous Product Range
1. Susanna
The Susanna eyeglasses are cat-eye-shaped eyeglasses that are suitable for ultra-modern makeovers. This is slim styled eyeglasses that will suit office outlook and formal occasions. The adjustable nose pads provide ultimate comfort while the ultra-lightweight frame is useful to wear for longer hours. The high-quality spring hinges are made in such a way that they are rust-proof and smooth the opening and closing of their handles. The way it looks creates a bold effect.
2. Ethel
The ethel eyeglasses from GlassesShop are very lightweight and flexible since they are made with TR90 high quality build material. There are 3 different color options available for this model. The 3 different color options for these models are a combination of 2 colors in each model of a similar range. These color combinations are Crystal-Pink, Crystal-Black, and the last one but most favorite of buyers is the Crystal-Purple combination. These also feature cat-eye design.
3. Jocelyn
These cat-eye design spectacles are very fashionable to wear at functions and parties. The Jocelyn range is made of a slim design and the build material is a metallic silhouette which gives an understated bold vibe. That's why it can be integrated with a high-fi personality wherever you wear it. The smooth spring hinges and flexible frame along with softer nose pads make it comfortable to use in longer runs. Not only that but also, they ensure durability for sure as experienced by many buyers.
4. Kama
Take a deep look into this design and see what you think. Yes, you are absolutely right because what you see is what you get, and don't worry because that is being taken care of by GlassesShop. TR90 build material, integrated softer nose pads, and flexible spring hinges, of course, ensures all-day comfort, durability, and reliability, which is unmatchable when compared with other brands. Very clearly GlassesShop is superior than other competitor players in the market in the eyewear segment.
5. Denise
The Denise is an elegant fashion disaster that has the potential to disrupt the eyewear industry for sure. One thing is clear no matter what, each and every eyewear from GlassesShop are very stylish and fancy. Meanwhile, this Denise eyewear model is made of TR90 material likewise and is strong and too flexible to break. Has subtle cuts and curves that overpower any outfit you wear. If you want to get noticed out there then this is the one eyewear you should opt for.
Top Picks For The Seasons Are Available
Well, when it comes to the choices of a colorful and happy mind then the GlassesShop eyewear website is the only site to surf for when you are searching for some eyewear that is not just eyewear but has the potential to add colors to your life. Don't need to give a look somewhere else because the eyeglasses that GlassesShop avails to you are sure the most unique in the segment.
Value For Money Spectacles
Less cost, more durability, high on style, greater comfort, suitable for daily usage, easy to wear for longer hours, varieties of colors available, diversity of designs are never decreasing, what more do you want if you are looking for the best eyeglasses in the market. Order your spectacles from GlassesShop now.
Conclusion
Last but not least, you will never stop wondering how they offer such good quality glasses at such a low price. That's their secret but you don't have to worry about all of these because you will absolutely experience peace of mind and will never regret being a customer of GlassesShop.